Precision ceramic is a valuable commodity in the medical field for its unique heat absorption properties. Experts such as Roger Narayan, professor at the Joint Department of Biomedical Engineering at the University of North Carolina and North Carolina State University, believe that ceramics are better materials for medical devices than metals. In addition to heat absorption properties, medical ceramic can withstand body fluids and provide low-bear wearing couples if combined with polyurethane or another ceramic. Read on to learn more about machined ceramic components, such as probe tips, cutting blades, and nozzles.
Machined Ceramics: What Are Probe Tips?
Probe tips are used in various medical applications and are often a component of scanning probe microscopes (SPM). The tip scans the surface of a sample and can make nano-scale images of structures and surfaces. There are several types of probe tips, including ceramic probe tips. These tips are designed for high-temperature applications because of their heat resistance. For example, a precision-machined ceramic probe tip may be used when the probe holder is placed above a high-temperature chuck and sample.
Machined Ceramics: What Are Cutting Blades?
Ceramics also edge out steel blades and scalpels with ceramic scalpels. These machined ceramic cutting blades have properties of high hardness and an ultra-fine grain structure. They are also strong and have a longer wear life than steel.
There are two types of ceramic cutting blades and scalpels: tungsten carbide and zirconia ceramic blades. Both have similar properties and share many of the same advantages. When both tungsten carbide and zirconia ceramic blades were compared to carbon steel, the machined ceramic blades outlasted the steel blades by 50 to 500 times.
Because of the high hardness of ceramic scalpels, they can provide extremely precise cuts. However, both tungsten carbide and zirconia ceramic are powdered metals, and the material is stressed each time the blade is used. These types of blades can be sharpened up to three times before they are too weakened to use. Still, this is a longer wear life than carbon steel when the blades are used correctly.
Another drawback of their long wear life and extreme fragility is a tendency for accidental breakage. Those handling ceramic blades should be well-versed with them, so as to avoid cracks or chips.
Machined Ceramics: What Are Ceramic Nozzles?
In machined ceramics for medical applications, ceramic nozzles, similarly to ceramic probe tips, are used because of their heat absorption and other properties, such as:
Hardness
Brittleness
Thermally and electronically insulating
Oxidation resistance
Non-magnetic
Chemically stable
They are refractory
Ceramic nozzles can last up to three times longer than steel and are therefore a popular choice in the medical field but in other industries as well, such as aerospace, agriculture, and military and defense.
What Are the Advantages and Disadvantages of Machined Ceramic in Medical Applications?
Machined ceramic has quite a few advantages, such as its heat properties, high hardness, and long wear life. However, machined ceramic may not always be the best choice for some applications because of its brittle nature. However, a workaround is to use other materials for the application, such as titanium hip prosthesis with a ceramic head and polyethylene acetabular cup. This can reduce friction and prevent the ceramic from becoming brittle.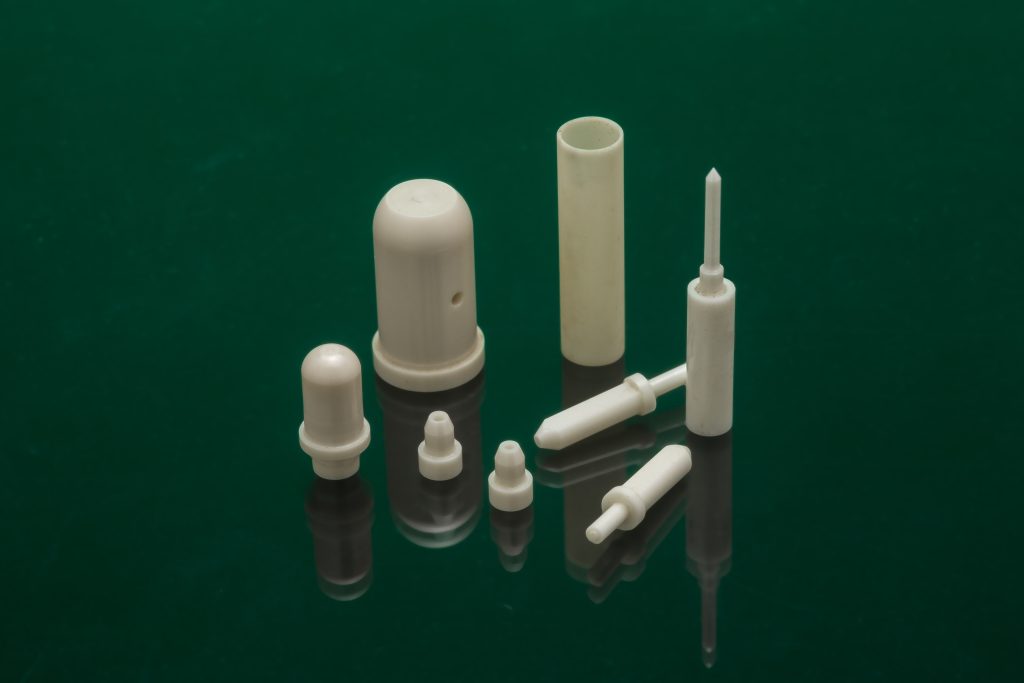 We manufacture custom probe tips, nozzles, and cutting blades with advanced ceramics prized by the medical industry. IRD Glass has been the leading supplier of customized precision glass, optics, ceramics and sapphire product fabrication for over 39 years. To learn more about probe tips, cutting blades, nozzles, and our capabilities, speak to a representative today for a quote.